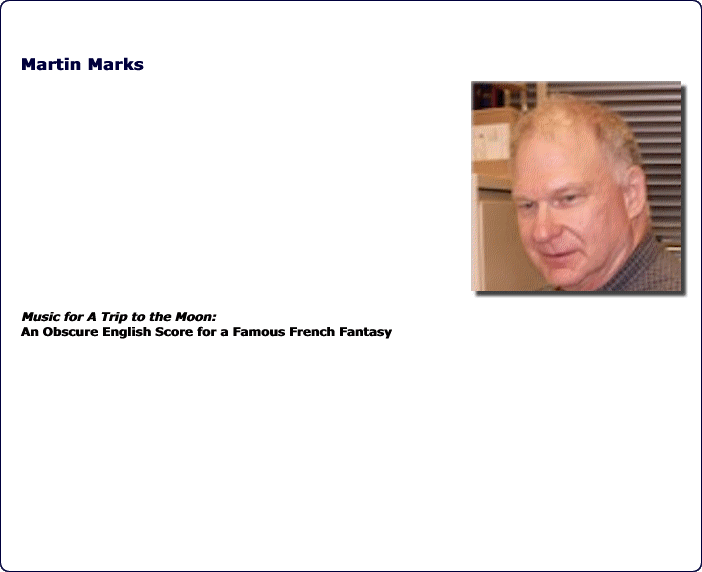 Martin Marks is a Senior Lecturer in Music at MIT, and a film music historian. At MIT he teaches a wide variety of subjects, both on music history and on cinema. Between 2000 and 2010 he served as Music Curator for four collections of silent films issued on DVD, under the series title Treasures from American Film Archives (published by the National Film Preservation Foundation in San Francisco). He frequently performs live accompaniments to silent films on the piano, at venues near and far. His publications include Music and the Silent Film (Oxford University Press, 1997), a recent essay for the journal 19th-Century Music, about classical music in the Preston Sturges film Unfaithfully Yours, and "Saint-Saëns and Silent Film / Sound Film and Saint-Saëns," to appear in the forthcoming volume, Saint-Saëns and His World, edited by Jann Pasler.
Although the career and music of the English composer and pianist Ezra Read (1862-1922) has been mostly forgotten, at least one work he composed merits our attention: an eight-page print of piano music titled A Trip to the Moon: Comic Descriptive Fantasia (bearing the imprint of "London Music Publishing Stores"). A copy is housed in the British Library, where I happened to come across it (quite by chance about six years ago) within a bound volume of miscellaneous piano pieces from 1903. (Though the music has no publication date, the score bears a library stamp dated April 2, 1903.) On the front cover is printed a "Synopsis" containing a list of the score's 24 different segment headings. These precisely describe the scene content of the imaginative and hugely successful film Voyage dans la lune, made by Georges Méliès that year. (It was released in England and the U.S.A. as A Trip to the Moon, though a precise translation would be "Journey into the Moon"; the latter better describes the plot, which blends bits of tales by Verne and Wells into a satirical mélange.)
Read's score is a pioneering example of early British cinema music. In my paper I will first address the uncertainties of the score's origins and raison d'être. Then I will focus on the degree to which the music fits the film (temporally, affectively, narratively), and the problems it poses for a performer today. To demonstrate my own solutions to some of these problems, I would like to have the presentation conclude with a live performance of the complete score, played to the projected film.