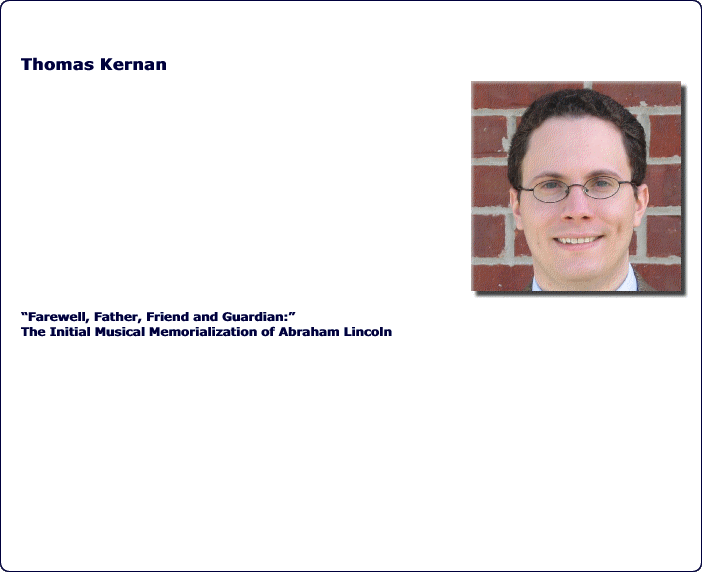 Thomas J. Kernan is a PhD candidate in musicology at the University of Cincinnati College-Conservatory of Music (CCM). In support of his dissertation, "Sounding 'The Mystic Chords of Memory': Musical Memorials for Abraham Lincoln, 1865–2009," Tom earned a University of Cincinnati Research Council Fellowship and grants from the English-Speaking Union and Ohio Federation of Music Clubs. His research interests include American musical memorials, the relationship of music to historical memory, and the history of percussion instruments and repertoire. He has presented papers at meetings of the American Musical Instrument Society, College Music Society, and Modern Language Association, among others. Tom was named CCM's outstanding graduate teaching assistant in 2007, and recently contributed articles to the forthcoming edition of the New Grove Dictionary of American Music.
Before masons had laid the first stones of the Abraham Lincoln monuments and commemorative structures that would eventually dot American cities, composers and performers set out in many and varied venues to musically memorialize the late president. From the April 1865 assassination through the closing months of that year, music comprised an essential element in the extended national mourning. The collections of the Library of Congress, New York Public Library, and Abraham Lincoln Presidential Library include a diverse body of these musical memorials. They were created by trained composers, such as John Knowles Paine and Richard Storrs Willis, as well as the average citizens of Rockton, Illinois; Portsmouth, New Hampshire; and elsewhere. These works were intended for public performance, as was the case with the Nicholas Lebrun's march for Lincoln's internment at Oak Ridge Cemetery, but also for commemorations at home, as seen in the piano music of W. J. Robjohn and Mrs. Effie A. Parkhurst. Publishers even reissued beloved opera excerpts under new titles, most notably Gaetano Donizetti's "Marche funèbre" from Dom Sébastien, which became Funeral March to the Memory of Abraham Lincoln.
These musical works provide insight into the intersection of American musical culture and national events, and the way we use the former to memorialize the latter. I employ a portion of the ninety-eight Lincoln compositions published in 1865 and the extravagant funeral performances as case studies of this activity. Building on Alexander Rehding and James Schmidt's recent scholarship on the topics of musical monumentality and memorialization, I argue that these compositions and performances provided temporary means of commemoration, while also introducing narratives and themes that composers of subsequent generations explored.